Located along the north-central coast of California, the densely populated San Francisco is among the world's top tourist destinations. The city was built upon hilly terrain on a peninsula surrounded by the Pacific Ocean to the west and the San Francisco Bay to the east. Its waterfront location and large number of parks give it the feel of a small town rather than a thriving metropolis with over 800,000 residents. San Francisco is culturally diverse, featuring strong Asian and Latin American influences, and representing every European nation. Its proximity to nearby Silicon Valley makes it a hub for the information technology industry and it is known as a gathering place for creative and unconventional thinkers.
San Francisco Bay Area Map
Downtown San Francisco Street Map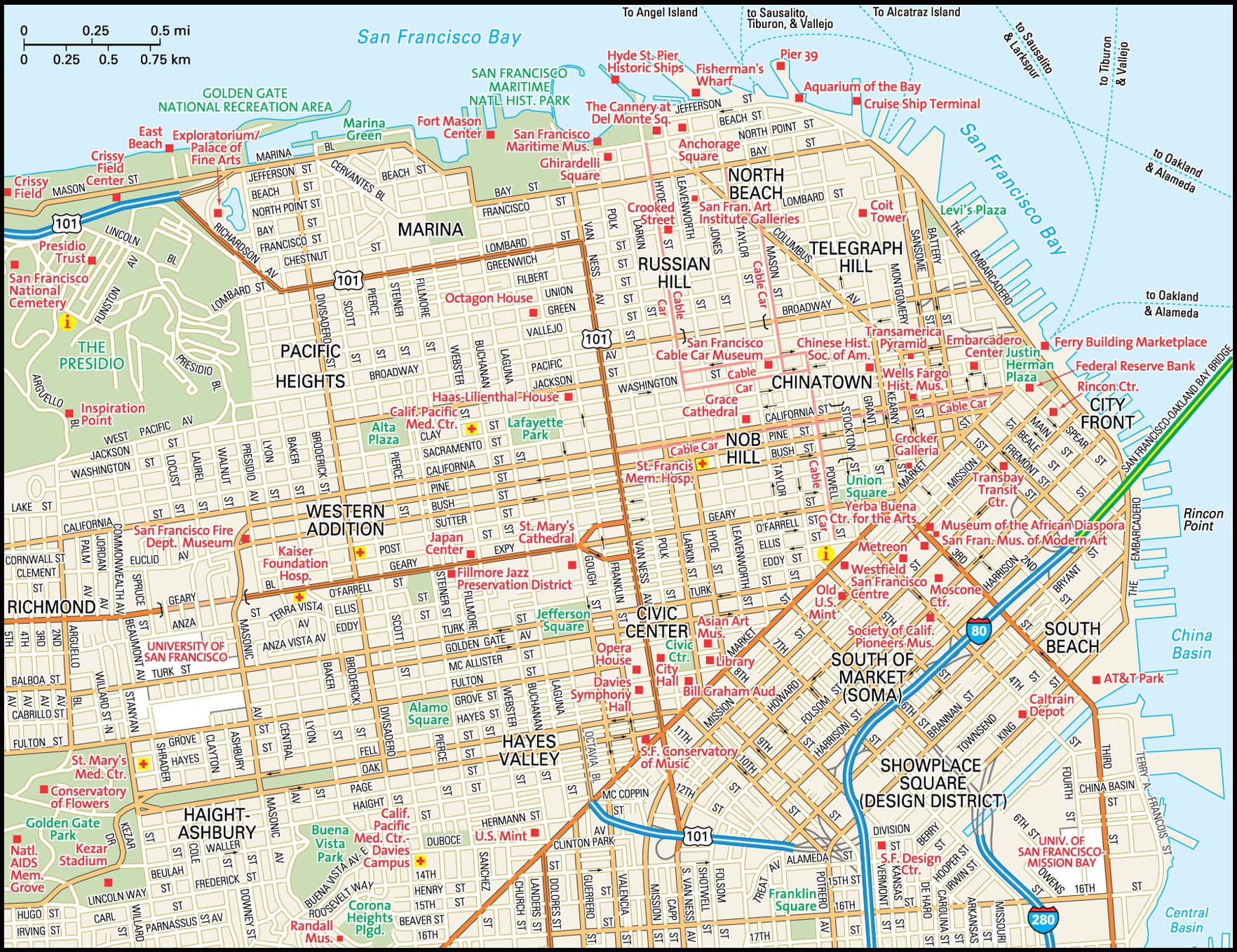 The San Francisco Bay area was dubbed the "Edge of the World" by the Ohlone Indians, who were the first settlers in the region. Europeans later came to the area in 1775 and the Spanish named the town San Francisco de Asis. The town's first building, Mission Dolores, was established by Father Junipero Serra in 1776 and can still be seen today. Located at the site of present-day downtown San Francisco, American settlers founded a city named Yerba Buena, which became a gateway for settlers, trappers, and pioneers. In 1848, the California Gold Rush created a booming port city, but also brought its fair share of crime which was policed by local militias. San Francisco was incorporated in 1850 and became a center of banking filled with exquisite homes, theaters, restaurants, and fine hotels after the height of the Gold Rush. In 1908, an earthquake measuring 8.3 on the Richter Scale set off a number of large fires that destroyed most of the city, but residents rebuilt by the 1920's. During the 1960s, the city became a refuge for those in favor of feminism, gay rights, and free speech. Political activism mixed with drug experimentation eventually led to a culmination of race riots and police confrontations during the summer of 1969.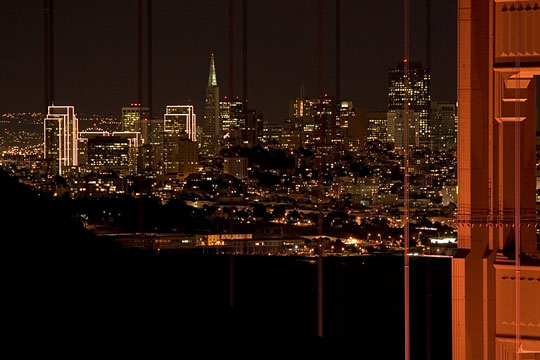 San Francisco Skyline at Night, with Golden Gate Bridge Tower
San Francisco Information Directory
In-depth San Francisco information and news can be found on these regional San Francisco Libraries and San Francisco Newspapers pages, respectively. Visitors to San Francisco will find this San Francisco Travel website useful.
---
Copyright © 2012-2023 Zeducorp.
All rights reserved.
About Us
The San Francisco area map and downtown San Francisco street map are © Globe Turner.
Map of San Francisco, California