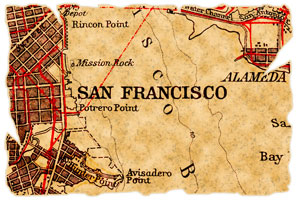 San Francisco's tourist attractions include the spectacular Golden Gate Bridge, the prison at Alcatraz Island, and the Fisherman's Wharf, which boasts fresh Dungess crabs and other seafood. Opportunities for fine dining and shopping are plentiful and there are many parks, museums, and other cultural amenities. Visitors can drive down Lombard Street's eight hairpin turns past stunning Victorian mansions, but the city is best explored by foot or by one of its world-famous cable cars.

San Francisco is famously located on the San Andreas fault and is extremely prone to earthquakes. Its climate is unusual with large differences between ocean and inland temperatures, and fog is persistent during certain times of year. Winter temperatures are mild, but summer temperatures often only reach the 50s. Cable cars, the BART subway, and MUNI buses provide excellent transportation, but the city suffers from space constraints, an extremely competitive job market, and the highest living and housing costs in the country. San Francisco is easily reached by car, bus, train, or air to San Francisco International Airport or Oakland International Airport.

Cars Winding Down Lombard Street in San Francisco, California

This San Francisco directory provides convenient access to a broad spectrum of enterprises that are located in San Francisco, California. In-depth information and news about San Francisco can be found on these regional San Francisco Libraries and San Francisco Newspapers pages, respectively. Visitors to San Francisco will find this San Francisco Travel website useful.
---
Copyright © 2012-2023 Zeducorp.
All rights reserved.

Interactive Maps of San Francisco